Brinjal with Charred Tomato Chilli Sambal
A great way to cook your brinjal with sambal. Brinjal is also known as eggplant and aubergine.
You can skip the step on pounding in the mortar and put it straight in a blender but I find that it taste better when you pound a bit as it releases the flavours more. Make a bigger batch (just increase ingredients incrementally ) and bottle it up and keep it in the fridge so you can use it another time. It stays well for 1 month. You can use any other sambal recipe for the topping or you can skip making the sambal and use a ready made one.
Brinjal with Charred Tomato Chilli Sambal
Serves 4
Ingredients:
2 (250g) brinjal (eggplant), sliced in half length wise and cut again into 3 or 4 pieces
1 tbsp salt
1 tbsp black pepper
1+3 tbsp oil
¼ cup water
1 sprig coriander, sliced thinly
Sambal Spice Paste
4 (50g) shallots, sliced thickly
3 (15g) garlic, sliced thickly
4-6 (50-75g) fresh red chili
1-2 (2-4 g) chilli padi (birds eye chili)
1 (120g) tomato, cut into big chunks
½ + 1 tsp salt
1 -2 tsp palm sugar
2 kaffir lime leaves
1-2 tbsp lemon/lime juice
Method:
Rub the brinjal with the salt and pepper and set it aside.
Heat up the pan on high heat and add the shallot, garlic, chilli and tomato and dry fry them for about 5 mins until it is fragrant and charred a little.
Turn off heat and remove the ingredients into a mortar and pound for about 3 mins with a pestle to release the flavours. Then put in a blender and process it until you have a fine paste. Set aside.
Heat ½ tsp salt in a pan on medium heat for 30 secs and then 2 tbsp oil. Add the chilli paste and kaffir lime leaves and stir fry for 5 mins. Stir in the salt and sugar and stir fry for another 3 mins. Add the lemon/lime juice, mix it in and turn off the heat. Taste and add the salt, sugar and lime/lemon juice to your taste. Keep the sambal aside. You can also use this sambal for other recipes.
Using the same pan (do not wash it), heat 3 tbsp oil on low heat and put in the brinjals, and cook until it is lightly brown (about 5 mins) , turn it over and cook the side is lightly brown too. Now add water, cover and let it cook until the brinjal is cooked through about 8 mins.
Remove and set it on a serving dish, cut side facing up. Top it with sambal and sprinkle with coriander. Serve with rice or use it in a sandwich.
Food Sorceress Notes:
You can find a few of my sambal recipes here: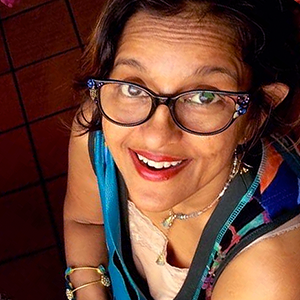 Ruqxana Vasanwala
Hi! I'm Ruqxana. Food Docent. Cat Lover. Personal Chef. Food Sorceress at Cookery Magic. And your teacher when I see you in class! 🙂