Omelette Ulam
(Egg Omelette with Fresh Herbs)
During this Covid-19 period, when most people across the world are staying at home, some of you will now need to start cooking your daily meals.  Ingredients are also limited during this period, so we need to cook with easily available ingredients.
Now in Singapore, during our Circuit Breaker (lock down) period, I am unable to run my cooking classes and am cooking quick and easy dishes for myself.  With so much uncertainty, we have to be careful with our expenses, thus it must also be inexpensive. But this does not mean that the final taste is compromised. It can still be delicious. 🙂
Today, I am sharing a quick and easy Thai style egg omelette. I have added a mixture of ulam (Ulam means herbs in Malay) which will help boost your immune system. You can use any mixture of herbs that you have. You can also skip the herbs, making it even easier.
This dish is eaten with rice or even in a sandwich, served with your favourite sambal to kick it up a notch!
Omelette Ulam (egg omelette with fresh herbs)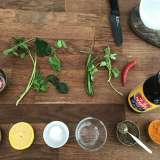 1 egg
1/2 red chilli, sliced
2 tsp fish sauce or soy sauce
2 tbsp slices herbs ( I used spring onion, coriander, mint, basil, ulam raja, wild pepper, kaffir lime leaf – use any combination that you like or have)
1 tsp lime/lemon juice
1 tsp fish sauce
1/2 tsp black pepper
1/4 tsp turmeric powder
1 tbsp of water
1 tsp rice flour or cornstarch
4 tbsp oil
Method
1. In a bowl, combine egg, lime/lemon juice, fish sauce, pepper, turmeric, rice flour or cornstarch mixed with water. in a medium bowl. Beat with a fork until frothy. Mix in the herbs.
2. Heat oil in a small small wok set over medium heat until lightly smoking. Slowly pour the egg mixture into the oil.
3. Fry the egg mixture for 20 secs and do not touch it. Turn the omelette over and cook for another 20 sec. Remove the omelette and drain the oil. Put on a paper towel to drain out the oil.
4. Serve immediately.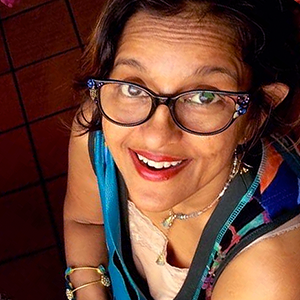 Ruqxana Vasanwala
Hi! I'm Ruqxana. Food Docent. Cat Lover. Personal Chef. Food Sorceress at Cookery Magic. And your teacher when I see you in class! 🙂