Chilli Ginger Garlic Tofu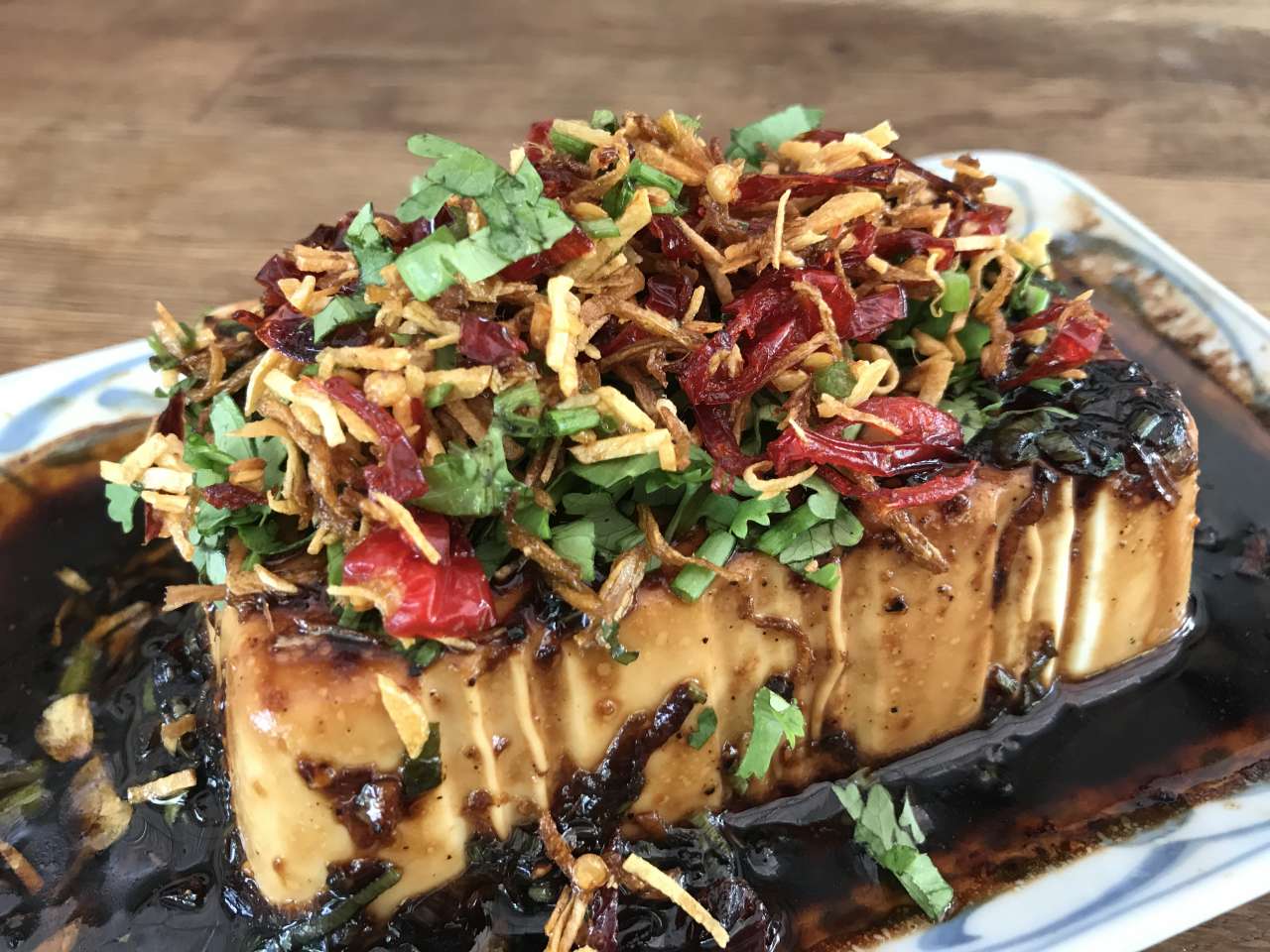 Quick and Easy Dish
This is such an easy, delicious and inexpensive recipe.
I first came up with this recipe about 17 years ago when I had an interview with a local newspaper and part of the interview was to cook a dish for the reporter. I completely forgot about the interview.  When she called to say she was on her way, I panicked.  I had not bought or prepared the ingredients, let alone even thought of which dish I was going to cook for her.
I ran to the fridge. There was only a packet of tofu. I decided to make a sauce, pour over the tofu, steam it and garnish it with herbs. Hence the birth of Chilli Ginger Garlic Tofu. It came out delicious and I have been teaching it in my cooking class. I also cook it for myself, family and friends.
When cooking this dish, it is very important to fry the chilli, ginger, garlic in this order as the cooking time is different for the 3 ingredients. If you like the sauce to be sweet, just add a little sugar. I prefer it without sugar. Use mushroom sauce instead of oyster sauce if you want it to be vegan.
Buy the silken tofu that is meant for steaming. I just use the microwave to heat up the tofu but you can steam it the traditional way in a steamer. If you prefer cold tofu, skip the microwave/steaming bit. There are people who like it cold.
It is both a main and side dish because you can have on its own with rice as your main meal. It can becomes a side dish when you serve it with several other dishes with rice.
Sauce
The sauce can be used for other dishes.  Pour it  over seafood to be steamed. You can use the sauce for stir fried vegetables. It can be used as seasoning for fried noodles or fried rice. It can be a dipping sauce for dumplings. So versatile!
Chilli Ginger Garlic Tofu
Serves 2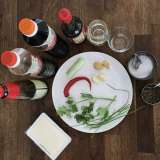 300g silken tofu (for steaming), discard water
1 tbsp oil
pinch of salt
1 red chilli, sliced
10g ginger. julienned
2 garlic, julienned
20g leek, sliced
Sauce
1 tsp sesame oil
1 tsp light soy sauce
2 tsp dark soy sauce
1 tsp oyster sauce/mushroom sauce
1 tsp pepper
2 tbsp water
5 g coriander leaves and stem, sliced
1 spring onion, sliced
Method:
Heat a pan on medium heat. Add salt and than oil and heat for 1 min. Add chilli and stir fry until about to be brown (2 mins). Lower the heat, add the ginger and stir fry for 2 mins until it about to be brown. Add garlic and stir until crispy and golden, about 1 min. Be careful not to burn the garlic. Remove it keep it aside.
In the same oil, over medium heat, add the leek and stir fry for 1 min. Add the sauce ingredients and water and stir and cook for 2 min or until sauce is a little thick. Turn off the heat and pour the sauce over the tofu. Steam or microwave (1 min on high) the tofu until it heated through. Skip this step if you like your tofu cold.
Serve it sprinkled with the coriander, spring onion and the ginger garlic chilli mixture. Serve it as main or side dish with rice.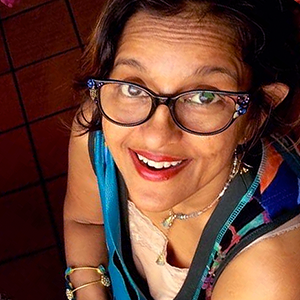 Ruqxana Vasanwala
Hi! I'm Ruqxana. Food Docent. Cat Lover. Personal Chef. Food Sorceress at Cookery Magic. And your teacher when I see you in class! 🙂