Serves 4
Preparation time: 10 minutes
Cooking time: 12 minutes
Ingredients
2-3 cups fresh mint leaves
1 green chillies
4 cloves garlic
1 inch ginger
2 cups rice, washed and drained
2 cups water
2 tsp salt
Method
Pound mint, chillies, garlic and ginger using a mortar and pestle or use a food processor to get a fine paste.
In a pot, add all the ingredients and bring the water to boil on medium heat.
Once it comes to a boil, reduce heat to low and simmer covered, until the liquid has evaporated and the rice is cooked, about 10 minutes. Fluff rice and serve hot.
Food Docent's Note:
Get a rice cooker. It is a worthwhile investment that will make your life a lot easier – and deliver perfectly cooked rice every time. Simply throw all the ingredients into the rice cooker, turn it on and sit back until your mint rice is ready to eat. Use your index finger to check that you have added the right amount of water – the water level should rise about ¾ of an inch above the rice. Watch my video for this tip.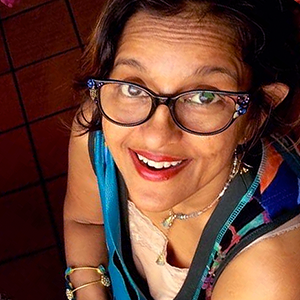 Ruqxana Vasanwala
Hi! I'm Ruqxana. Food Docent. Cat Lover. Personal Chef. Food Sorceress at Cookery Magic. And your teacher when I see you in class! 🙂