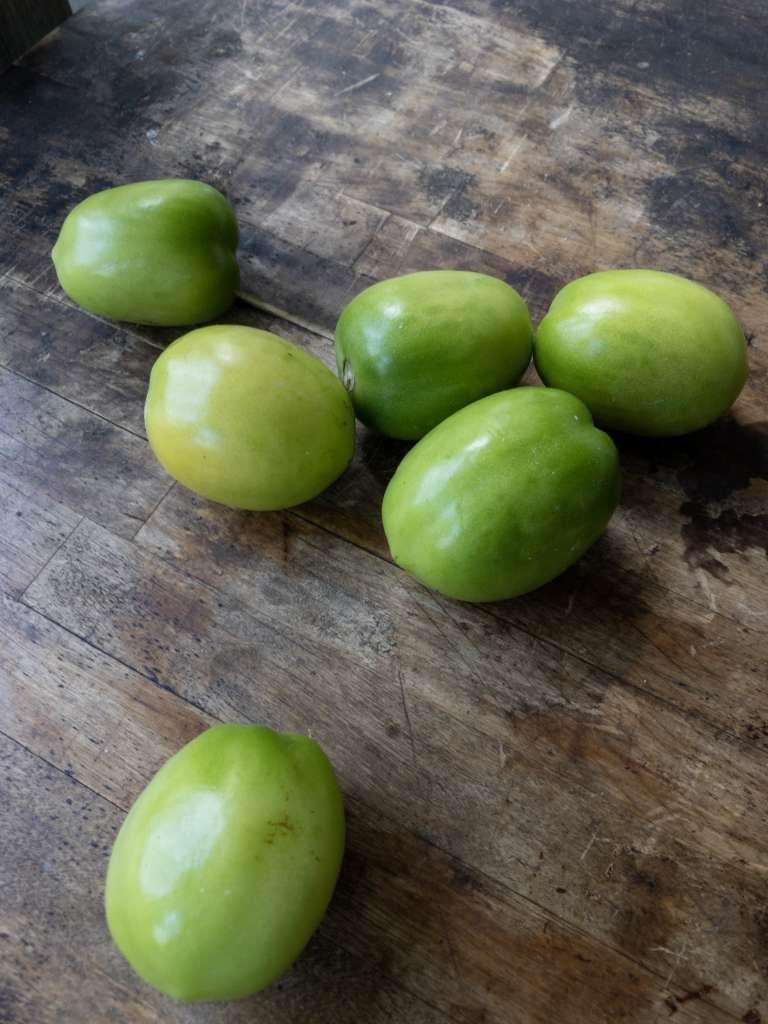 Green Tomatoes
The first thing that comes to my mind when I see the words 'green tomatoes' is the book I read many years ago, titled Fried Green Tomatoes by Fannie Flagg. It was also at that time that I first learnt that you can eat green tomatoes as I had only eaten ripe red ones and if the tomatoes were green, you either did not pick them when buying and if you did, you had to wait until it ripened before using them.
Nobody I knew then, was using green tomatoes as an ingredient in Singapore. In the book, fried green tomatoes was a southern American dish. I often wondered what that dish tasted like but  I never bothered to try it out.
Until I recently discovered the existence of an Indonesian sambal called Sambal Hijau – which mean Green Sambal. Being green it would mean, it uses green chillies instead of red. But there was an interesting ingredient that went into it. And was green tomatoes!!! Now that caught my attention. I decided to research recipes for the sambal. I found many online but I also got a few different recipes from a few Indonesian Domestic Helpers in Singapore. 
Where to find green tomatoes in Singapore? Sadly it is not easy to find but once in a while you will find a few at Gelang Serai Market and only if someone else has not beat you to it!  I was told by the stall holder that when they do get the supply of the green tomatoes, it gets snapped up by 'the people in the know'. I guess I am one of the them now! 😉
Green tomatoes are firm, has a sour and astringent taste (they don't taste good when not cooked) but after you cook it, it mellows down. You can sliced them and coat it with batter and fried like a tempura or pickled or used in soups, stews, curries and of course sambal!!!
So here is a recipe that is an amalgamation of a few Sambal Hijau recipes out there. This is my usual practice. I like to look for as many recipes I can find and then do a makeover of them to suit my taste.
What and how to use this sambal? You can use it as a condiment which how it is used on most Malay, Indonesian, Nonya  tables as it compliments or adds a bit of oomph to the other dishes. 
You can also use it as a base to create other dishes. Use in your fried rice or noodles; as a marinade for baking, bbq, steaming. As a base for your curries. It goes with seafood, vegetables, poultry and meats. Use it even in your pasta!
It is always handy to have several bottles of home made sambal in your fridge. It keeps well for one month and you can freeze it for three months. This way you can quickly whip up a dish when you come home from work or if an unexpected guest pops in.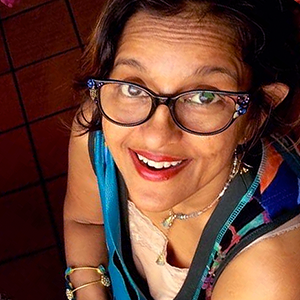 Ruqxana Vasanwala
Hi! I'm Ruqxana. Food Docent. Cat Lover. Personal Chef. Food Sorceress at Cookery Magic. And your teacher when I see you in class! 🙂