Avocado Gazpacho Soup
I first had gazpacho soup in Spain when I went for my first European holiday in 1987. A cold soup is something I have never had before and it was a complete new experience for me. I did not think I would like it. But I did! 🙂
A refreshing cold gazpacho soup, it is perfect for warm weather. And Singapore being hot most days of the year, this is a good soup to have. The best thing about this soup is, not much cooking. The only cooking is to roast the bell pepper.
This is my version of the Spanish Gazpacho Soup with avocado and chilli. My soup is little chunky but you can also make it smooth.
Avocado Gazpacho Soup 
Makes 4-5 cups
Preparation time: 25mins
Cooking time: 10mins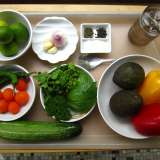 Ingredients
2 ripe Avocado
2 Bell Peppers – green/yellow/red/orange
1/2 Cucumber
6 Cherry tomatoes
2 Lime juice
1 Green chilli
3 Cloves garlic
2 Onions
Basil
Coriander
Parsley
Salt
Black Pepper
Ice Water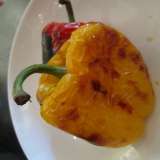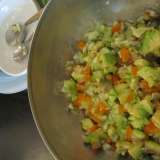 Preparation:
Pre heat oven to grill mode.
Roast bell peppers whole for 5-10 minutes till soft turning every 3 minutes until the skin is charred.
Remove from oven and leave to cool in a paper bag for 10 mins (this helps in the peeling of the skin). Peel the skin.
Method:
De-seed avocado, cut into small cubes.
Chop finely garlic, shallots and green chilli.
Remove the seeds of the cherry tomato and cut into small cubes.
Half the cucumber and peel it's skin. Remove the seeds inside and cut into small cubes.
Remove the seeds inside of the bell peppers and cut into small cubes.
Add all of the above ingredients and leave a small portion out.
Blitz in a hand-blender just slightly to a semi-coarse/semi-smoothie texture.
Add the left out portion along with the herbs and adjust seasoning -salt/black pepper/lime juice.
Top with plain yoghurt and cracker.
Serve in tea cups or small bowls and garnish with coriander leaf.
Food Sorceress' Note: The addition of plain yoghurt and cracker is optional. An alternative to yoghurt, you could use sour cream, creme fresh or coconut milk for a vegan version.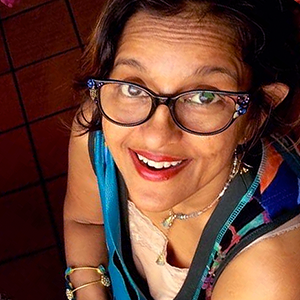 Ruqxana Vasanwala
Hi! I'm Ruqxana. Food Docent. Cat Lover. Personal Chef. Food Sorceress at Cookery Magic. And your teacher when I see you in class! 🙂