Strawberry Rice Paper Rolls
Serves 12
Preparation time:
Cooking/Baking time:
Ingredients:
12 round rice paper
For the filling:
100 g thin rice/bean thread vermicelli

12 lettuce leaves, cut in half and ribs removed
1 carrot, julienne
1 cucumber, julienne
12 strawberries, sliced thinly
24 basil leaves

24 mint leaves
Method:
Soak the vermicelli in 2 cups of hot water until it is soft. Drain and set aside.
To assemble, dip a sheet of rice paper in warm water, until it is pliable. Transfer onto a damp towel to avoid sticking.
Place lettuce leave on the rice paper, leaving 1 inch border on each side and at the bottom. Place 1 tbsp of vermicelli, 1 tbsp carrot, 1 tbsp cucumber., a few slices of strawberries and 2 basil and 2 mint leaves.
Roll the rice paper away from you and tuck the ends in halfway and finish to obtain a tight cylinder.
Place the spring roll on its seam on a flat dish and cover it with a damp towel and keep it the refrigerator until it is served.
Just before serving, cut the rice paper rolls into half on the bias. Serve with your favourite hot chilli sauce.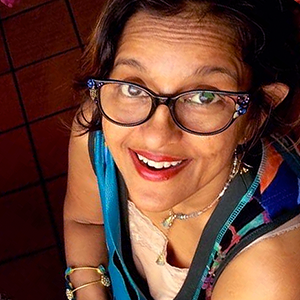 Ruqxana Vasanwala
Hi! I'm Ruqxana. Food Docent. Cat Lover. Personal Chef. Food Sorceress at Cookery Magic. And your teacher when I see you in class! 🙂