Batata Pauwa (Rice Flakes with Potatoes)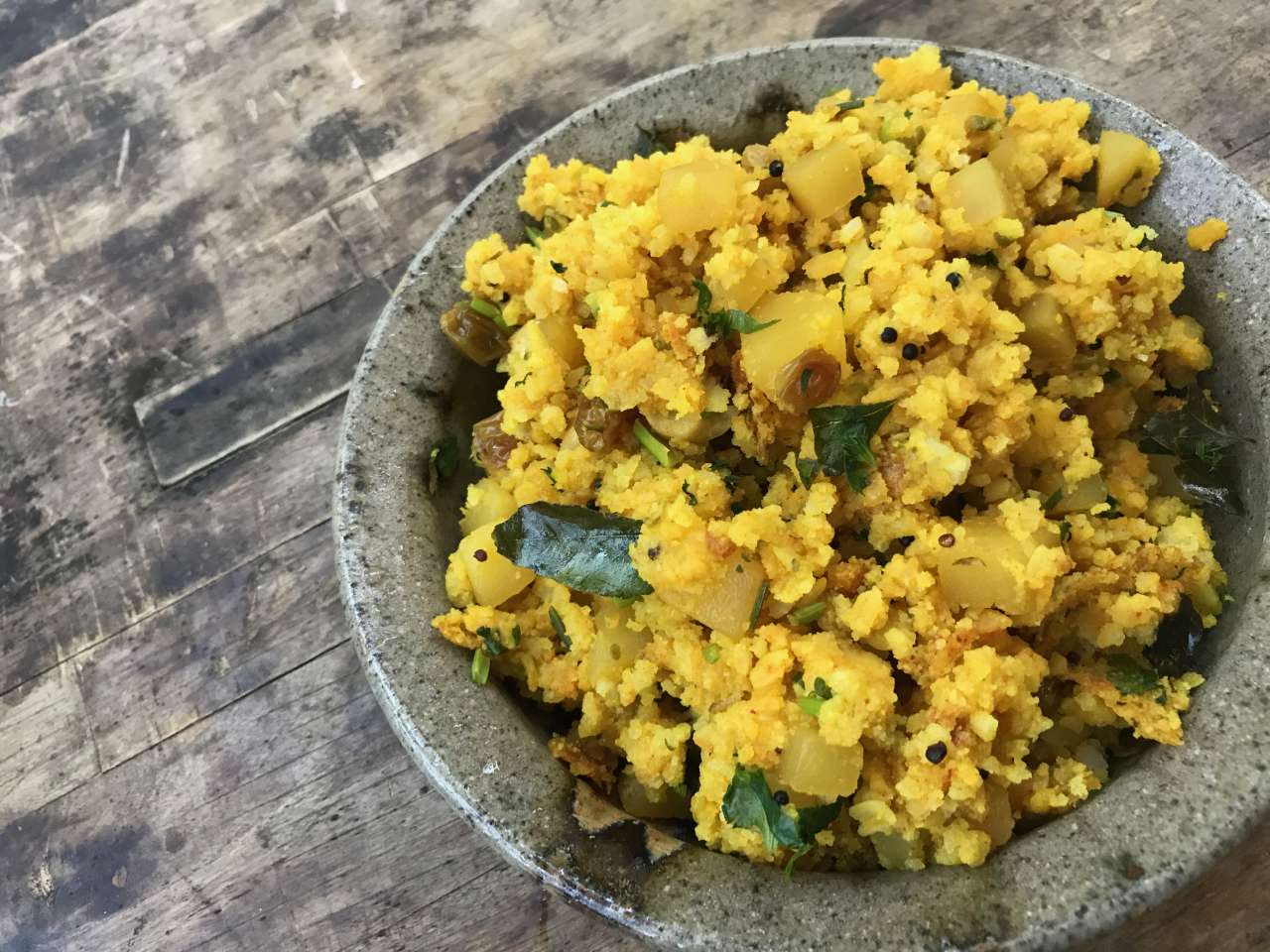 Rice Flakes
Rice Flakes commonly known as Poha, go by several names in India, but I know it as Pauwa which is in Gujarati. It is called Aval in Tamil, Bhojpuri in Punjabi, Pauva in Hindi, Chira in Bengali and many more names. It can be bought from Indian grocery shops.
It is basically flattened rice. It can be eaten raw by mixing it in water or milk and seasoned with sugar, salt and spices. It can be lightly fried and with spices, nuts, dry fruits and other ingredients. It is popular as a snack and even breakfast. 
It has 91% carbohydrate, 8 % protein and 1% fat, has vitamins and iron. It is a good option for diabetics because of the slow release of sugar into the bloodstream. They also fill you up and stops your food cravings.
My aunt, Bilkis Mami ( we call our mother's brother Mama and his wife Mami) from India is visiting my family in Singapore and she has been cooking all sorts of dishes for us. One of my favourite has been a Gujarati dish Batata Pauwa , Rice Flakes with Potatoes.  I cannot get enough of it and she has been very sweet to cook for me several times. I finally got down to getting her to teach me. I have written down the recipe and here it is. It is so easy to prepare. Do let me know if you have tried it.
Batata Pauwa (Rice Flakes with Potatoes)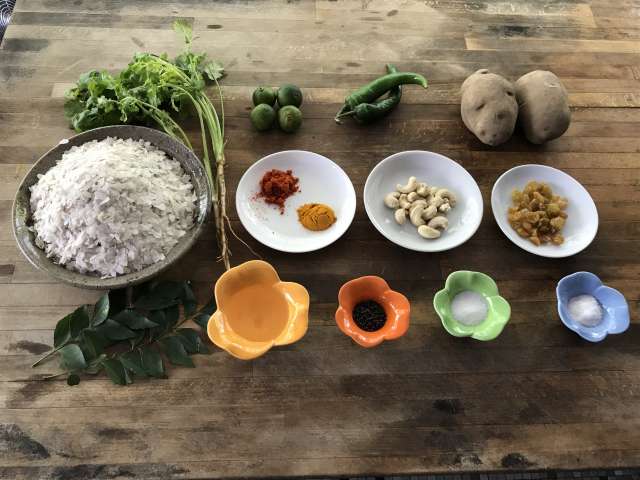 Ingredients
2 (250g) potatoes
200g Rice Flakes (Pauwa), strain it to remove any rice dust
2 tsp of Salt
3 1/2 tbsp oil
1 tsp mustard seeds
2 sprig curry leaves, bruised to release the aroma
2 (30g) green chillies, chopped finely
30g raisins
50g cashew nuts, chopped roughly
1 tsp turmeric powder
1/2 tsp chilli powder
1 1/2 tsp sugar
4 kalamansi limes, juiced
2 (10g) spring coriander, chopped
1/4 cup Sev (fried lentil vermicelli) – optional
Method
Boil potatoes in a pot of water for about 8 mins, remove skin and cut it into small cubes, Set it aside.
Wash the rice flakes gently in water and rinse a few times and let it sit in the strainer to drain all the water and slightly dry about 10 mins. Set it aside.
Add 1/4 tsp salt in a wok over medium heat, and roast it for 30 secs. Add oil and after 30 secs, add in the mustard seed. Once the seeds pop, about 20 secs, add in the curry leaves and stir fry for 1 min.
Add in the green chillies and stir fry for 1 min.
Add in the raisins, cashew nuts and stir fry for another 1 min.
Add in the potatoes and stir fry for 3-4 mins.
Add in the rice flakes and stir for 2 min.
Stir in the 2 3/4 tsp salt , turmeric powder, chilli powder, and sugar and mix well. Add the lime juice and mix well.
Mix in the coriander and turn off the heat. If using sev, sprinkle on it and serve warm.
Food Sorceress Notes: 
Add more or less green chilli and chilli powder to suit your spice heat level.
I am using the small kalamansi limes. You can use the regular limes or lemon – about 1/2- 1 tbsp juice depending your liking for sourness.
Adjust the lime, salt and sugar flavours to your taste.
Sev but it is added for the final crunch taste. You don't have to add it. I

 

am happy having it without the sev.
You can substitute the cashew nuts with either peanuts or almonds.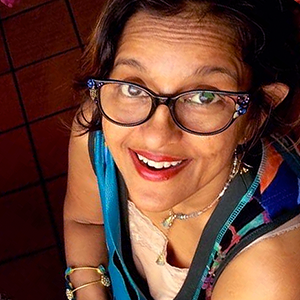 Ruqxana Vasanwala
Hi! I'm Ruqxana. Food Docent. Cat Lover. Personal Chef. Food Sorceress at Cookery Magic. And your teacher when I see you in class! 🙂